(#Bloggermore 26/26 … Well, really 16/26)
"You're flight time through to Hobart is 54 minutes."
So, that's precisely how long I had to cobble together one final blog post for 2015. Of course, I really should write several 50 word posts in a desperate last-ditch attempt to meet my own blogging aim for this year. But I won't, and next year there will be no silly, self-imposed challenges! I have been, like everyone involved in education, exceedingly busy but I've also had to factor in an interstate move, home renovations, a new school, a slightly demonic new puppy, sick relatives, very cold mornings, worsening arthritis, a rabid crow in our kitchen, dust storms and bushfires. However, you can rest easy; this post is not to warn you of the impending apocalypse … That's just my life.
Of course, I've also had some "wins" along the way. This year I've found myself increasingly sought after as a writer for Australian Teacher Magazine, Fractus Learning and others. It's simply brilliant to receive Christmas greetings like this one: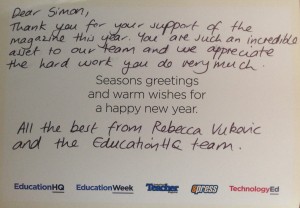 I've also compiled a fortnightly eNewsletter focusing on all things educational technology for my new colleagues, conducted professional learning sessions and even made a well received appearance as "Bad Santa" at the staff Christmas lunch. In many respects the real highlight was delivering my very first keynote address at the annual HTAWA State Conference in Perth. Anyone who knows me well can tell you that I like nothing more than the sound of my own voice! Which brings me to my hopes for 2016 and my purpose in writing here. Put simply, I want to become a regular conference keynote speaker. I want to be "that guy" who educators want to listen to. I've been told many times that I am a humorous and engaging presenter but I'm simply not part of the "pro tour." Unfortunately, too many conferences are still headlined by the same tired old people delivering the same tired old content in the same tired old manner. A few years back I recall reading an insightful tweet about a disappointing keynote:
"Blah, blah, blah … Sign my cheque. Blah, blah, blah … Take me back to my five star hotel."
Now, I've got the old and tired bit covered but how do I get a headline gig? I'm not Sir Ken Robinson so I can't expect the mega bucks but I do have over three decades of genuine classroom experience and my own variety of home spun wisdom. The voice of education needs to be genuine, not a rehearsed, over–priced routine.
I am most certainly excited about the enormous possibilities of the Education Nation conference which will take place in Sydney during June next year. (You can find all the details at www.educationnation.com.au) I am delighted to be part of the Advisory Team that will help shape this conference "by teachers, for teachers."
There's also a good chance that I'll take the stage at some time during the two days; after all, I am dropping regular hints. But, that's not enough; I want more opportunities to put myself out there, to help shape education in Australia and worldwide. Yes, even worldwide. If you're a megalomaniac you might as well go the whole way; I only have a few years left to match the empire building of my hero Alexander! So, if you're organising some teacher training sessions or a conference; use the contact form on this site to bring me onboard. I don't have a set "rate" but I know it will be reasonable. I don't even expect a 5 star hotel, I'm prepared to slum it in a 4 star. Oh hell, let's just admit it; if all else fails I'll also consider offers to resurrect Santa.