I've discovered late in my teaching career that I should have started writing articles years ago! Now that I'm finally in print I want to compile a list of where you can find my "musings." Hopefully, this list will grow regularly …
December 1 2012
I was fortunate to be interviewed and quoted by journalist Jewel Topsfield in her Age article "T is for Teaching." This piece looks at teachers incorporating social media into their classrooms. The article can be accessed at
http://www.theage.com.au/national/t-is-for-teaching-20121130-2amd9.html
March 19 2013
My article "You Can't Adjust the Sails From an Armchair" appeared on the Fractus Learning website. It details my frustrations with the rise of administrivia in schools and the refusal of colleagues to adopt the latest learning teachnologies. Of course, you will also find the origin of the title along with references to Gorbachev, the Berlin Wall and a song by The Scorpions.
http://www.fractuslearning.com/2013/03/19/adjust-the-sails/
May 21 2013
For a number of years, I have conducted successful overseas educational tours for Ancient History student. I was understandably thrilled when Australian Teacher Magazine approached me to write about this initiative. There is a short print version in the June 2013 edition, Volume 9 Issue 5. I would prefer you to read the much longer digital version for which you require the free iTunes app. https://itunes.apple.com/au/app/teacher-+/id569816828 There is also an Android app available.
The full article appears under the title "Ancient Time Travellers on a Greek Odyssey."
July 23 2013
I couldn't pass up the opportunity for a return appearance on Fractus Learning. In keeping with my first piece, I decided to title this article "You Can't Play Tennis With a Golf Club." Of course, it has nothing to do with sport but much to do with my Twitter "journey" and includes a list of "10 Teacher Twitter Commandments." My best review (so far) came from Jossey Bass Education in the USA.
"A hilarious, helpful article on how educators can make the most of their twitter account from@connectedtchr"
So, just click on the link below:
http://www.fractuslearning.com/2013/07/22/teacher-twitter-commandments/ 
August 2013
Barely had the dust settled on my Fractus Learning foray when Australian Teacher Magazine asked me to write a piece on "connectedness." In the Term 3 Technology in Education supplement you will find my article "Globally Connected and Proud to Be One of the Twitter-ati." Unfortunately, you'll also find a not particularly flattering photo of my balding head. The article focuses on the responsibility that I believe teachers now have to be part of a global education community. As indicated above, you can read this piece in digital form by downloading the ATM app.
https://itunes.apple.com/au/app/teacher-+/id569816828
September 2013
You will find me quoted more than once in Volume 1, Issue 3 of the Education Review "Tech Guide." Journalist, Louis White, interviewed me with respect to the ABC Splash website (see Page 7) but I'm also quoted in the article "Tweet, follow or get out of the way" (Page 20). Go to (and search under the Technology tab)
http://www.educationreview.com.au
October 2013
Agora is a quarterly magazine published by the History Teachers Association of Victoria. The HTAV became aware of a tweet chat that I have been involved in since its inception; the fortnightly #histedchat In what was a great experience, a number of the regulars collaborated online to produce an Agora article. How awesome … an article written with fellow History "tweachers" … most of whom I've not met face to face. Co-authors were Dr. Catherine Hart, Jan Molloy, Matt Esterman, Matt Schultz, Ilja Van Weringh, James Oliver (James, not Jamie) and Matthew Ward. The link will take you to a PDF copy housed on Ilja's blog.
http://thinkedu.net/blog/wp-content/uploads/2013/10/HTAV-Twitter-Article.pdf
November 2013
Australian Teacher Magazine asked me to write a review of the interactive book app For The Term of His Natural Life. I never would have believed that writing 120 words could be so difficult! At least I can include the full review here without the need for a link.
Books: For the Term of His Natural Life
As a Tasmanian born Humanities teacher, I was bound to love this app. I have long known the story of Alexander Pearce, the cannibal convict, who inspired the character of Gabbett in Marcus Clarke's novel. This app is a truly immersive experience that seamlessly combines a range of media. There is an abridged version of the novel, along with video clips from the 1980s TV miniseries.
You will also find still images, maps, colonial art, a character chart, text notes and even sound effects. These features appear in a banner at the bottom of the screen, which enables you to easily have the "full experience" as you read. Yes, this app is pricey but it is well worth the investment; the possible uses in the classroom are myriad. Buy it.
December 2013
Let's Explore is a periodical produced for South Service Centre Schools of Brisbane Catholic Education. This magazine aims to showcase "… how technology is used to add depth and value to learning opportunities." In Edition Three you will find my article "Time to Innova8" which discusses the "Genius Hour" program that I conducted with a Year 8 class throughout 2013. If you have the iTunesU app, you can find this publication at:
Please Note: That you will need to request enrolment in this "course" and await approval.
January 8 2014
A new year = A new rant! For my third contribution to the Fractus Learning site I chose the topic "All That's Wrong With Education Technology Conferences (and You Can't Handle the Truth") Now, I will admit to the title being slightly unwieldy but at least I managed to force out another "You Can't …" I see 3 major problems with the current conference format. This link will take you there … and as always, I would appreciate any feedback.
http://www.fractuslearning.com/2014/01/08/education-technology-conferences/ 
February 2014
An article not by me … but about me! Well, about me, my 2013 Year 8 class and our Innova8 program. Based on an interview with Rebecca Vukovic, you'll find the article in Volume 10, Issue 1 of the Australian Teacher Magazine. Just head to page 38 and look for "Innova8 Igniting a Passion."
April 2014
I had an excellent idea (in fact, I have many of them!) for allowing students to "experience" the eruption of Vesuvius and the destruction of Ancient Pompeii. It became the #TweetingPompeii project and will, with time, become an iBook as well. My good friends at Australian Teachers' Magazine printed my musings in the article "Twitter: Handy Learning Tool" along with a review of the app Virtual History Roma. You can access the article (in the short term at least) by clicking on this link:
http://www.ozteacher.com.au/technology/helpdesk/twitter-handy-learning-tool/28146
June 2014
And … back to Fractus Learning but this time no (supposedly) clever title beginning with "You Can't …" This particular article, "Declaring the Digital Rights of Students," was one that I agonised over. We certainly have reached an era in which terms such as digital citizenship and digital literacy are now ubiquitous. As always, I would welcome your comments on my ideas.
http://www.fractuslearning.com/2014/06/03/digital-rights-of-students/ 
July 2014
I was flattered when asked by the Australian Education Times to be the focus of their "Teacher of the Month" column. You can find my responses to the interview questions on page 12 via the following link …
http://issuu.com/taet2013/docs/the_australian_education_times_08_-/15?e=9438335/8547453
July 2014
… and, within a matter of days, I was also approached by Branchfire, developers of the exceptional iAnnotate app to be identified as a "Power User." Not being one who enjoys the spotlight (cough, cough) it took me seconds to say yes! The resulting interview gave me a great opportunity to be discuss a number of key issues in the field of educational technology.
http://www.branchfire.com/simon-mckenzie 
July 2014
Finally, just one last foray into print for the month of July. Regular readers of this blog would be well aware of my passion for the awesome presentation app Haiku Deck. The Australian Teacher Magazine asked me to write a short "Help Desk" piece on the best alternative to PowerPoint … you can guess what I went with!
http://www.educationhq.com.au/news/10950/haiku-deck-a-good-alternative-to-powerpoint/ 
August 2014
Another group of App Reviews for Australian Teacher Magazine (or should I say Education HQ.) On this occasion I focused on three applications that could save any teacher a good deal of time; Pocket, Sound Gecko and Teacher Shake. Let's face it, all teachers are time poor!
http://www.educationhq.com.au/news/11036/apps-to-make-your-life-easier/
October 2014
The Term 4 Technology supplement of the Australian Teacher Magazine gave me an opportunity for another round of app reviews. On this occasion I included three apps for student creation; Green Screen by Do Ink, Tellagami and Trading Cards. If you are unfamiliar with these three great tools, then just click on the link below:
http://issuu.com/tempomedia/docs/tie-4-2014/43?e=4225778/9880288
February 2015
It's been a while … but finally I've made another contribution to the world of print. On page 55 of the February 2015 edition of Australian Teacher magazine, you'll find my review of Alan Peat's excellent app "Writing Gruesome Ghost Stories."
March 2015
I had left it far too long to make another contribution to the excellent Fractus Learning site. So, when my school started considering BYOD, this was my response: "BYOD: Bring Your Own Disenthrallment." Do take a read; even if it's just to find out what else BYOD stands for.
http://www.fractuslearning.com/2015/03/24/byod-bring-your-own-disenthrallment/
May 2015
And it's back once again to Australian Teacher Magazine. In this May edition I was able to contribute two short pieces. You can find them both on page 51; how's that for convenience! You'll find a review of the excellent PushBullet app along with a Help Desk piece on App Smashing. Just click the link to track them down …
http://au.educationhq.com/magazines/teacher/
May 2015
TechnologyEd Issue 15 provided me with the opportunity to write about our Year 9 combined History/English subject called "Making a Better World." Head to pages 52-54 to read "History Teaching's Brave New World."
http://au.educationhq.com/magazines/technology/
July 2015
The first of a pair of companion app reviews; this one focusing on my new obsession, Adobe Voice. As always just head to Australian Teacher Magazine, Volume 11, Issue 6, page 51.
http://au.educationhq.com/magazines/teacher/
August 2015
Are you interested in creating a Maker Space in your classroom or perhaps the school library. I've started on a project to become "super awesome" like Sylvia. Fortunately, Australian Teacher Magazine asked me at exactly the same time to write a Maker Space Help Desk. Just take the link …
http://au.educationhq.com/news/30083/be-awesome-just-like-sylvia/
October 2015
I guess I'm now a "regular contributor" to Australian Teacher Magazine. My latest Help Desk was all about the various options for student made videos … with a sidebar review of Zaption; one of my new "faves." Just head to the print or online version and you'll find me under "Playing the New Video Game" on page 59.
November 2015
For Issue 17 of TechnologyEd (Term 4 2015) I contributed an article on my school's fledgling Maker Space. On pages 37-40 you will find "Maker Movement Gathers Steam" and you can discover the fate of our 3D printed elephant. TechnologyEd is available in print, iOS and Android versions.
November 2015
I also made a long overdue return to the "pages" of Fractus Learning; spurred on perhaps by the fancy digital badge they sent which now appears on my Home page (Go on, take a look.) This new article was very well received and heavily retweeted (thanks Tweeps old and new.) If you want to know whether technology in schools has just made everything worse … click on the link.
http://www.fractuslearning.com/2015/11/25/technology-schools-made-everything-worse/
December 2015
You'll also find me all over the final Australian Teacher Magazine issue (Volume 11 Issue 11) for the year. There's a Help Desk on using infographics, a review of the Who Was? app and I'm even part of the Annual Report Card. It's great to be considered part of "The Team."
January 2016 
A new year and a new favourite tool in the form of Piktochart. I was contacted by Piktochart themselves via Twitter (another great reason to be "connected") and soon became the focus of a User Story on their blog. A lot of emails, a few key questions, a quick 800 words from me and … here's what you end up with… Not my fave but it is about me!
February 2016
Australian Teacher Magazine remains my greatest fan. This time around, they were keen for me to provide my "New Year Tech-o-lutions" … not my title, but it is punny! You'll find my musings, along with an app review of "The Wider Image" on page 57 of Volume 12 Issue 1. Or, click below and navigate to the appropriate page.
March 2016
For the latest issue of TechnologyEd (Issue 18 Term 1 2016) I was approached to write an article on Student Entrepreneurship … It proved to be a great learning curve; for me. To peak your interest … you'll find references in my "Cheat Sheet" to tertiary courses, 3D printed smartphone cases, Richard Branson and shoe care kits.
March 2016
And then there's the article you write when you haven't written an article! Hindsight 2015 was published by the HTAWA and they chose to include my 2015 keynote from the annual state conference. If you're lucky enough to receive a copy, you'll find me on pages 5-9.
April 2016
ATM again … perhaps I could make this a career! In Volume 12, Issue 3 you will find me on page 43 offering what I consider to be some great "Alternatives to PowerPoint."  You can also read my review of the Tiny Tap app.
April 2016
I was way overdue for a return to the pages of Fractus Learning and so … I wrote a review of the exceptional text "Open" by David Price OBE. The team at Fractus like their reviews to reveal key ideas so that a reader doesn't have to go out and read the book. In keeping with my "tradition" of somewhat quirky titles, you can read "Man The Walls: The Heutogogues Are Coming" by clicking on the link below.
http://www.fractuslearning.com/2016/04/20/social-learning-heutagogues-coming/
May 2016
Back to TechnologyEd for another dive into one of the emerging fields of educational technology; augmented reality. In Issue 19 (Term 2 2016) you'll find my 'Cheat Sheet' to get you started. "Augmented Reality: Far From a Gimmick" appears on pages 44 and 45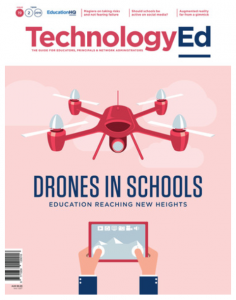 June 2016
… and then I also provided some thoughts on digital resources to support the teaching of Shakespeare. So, if you're "Bored of the Bard" you'll find my Help Desk piece "Shakespeare's Online Riches" by using the link below. You'll also find my review of the excellent iPad app CS: Hamlet
http://au.educationhq.com/news/34797/shakespeares-online-riches/
July 2016
So, here we are back at school for Term 3 and I'm back on the pages of Australian Teacher Magazine. You'll find me all over page 43 of Volume 12, Issue 7 with a Help Desk article on "Nailing Tech PD Sessions." There's also a review of the Shomi app which you can check out at https://shomi.link 
August 2016
Issue 20 of TechnologyEd included my PD Review of the 2016 Education Nation Conference … though, unfortunately, it will now be a "one off" event, you might like to read my thoughts on some of the outstanding presentations.
September 2016
Not one app review in Australian Teacher Magazine but three … and I'm getting a pay rise. So which tools did I focus upon? Task Matrix, Mind Node and the excellent Hex-A-Gone from Alan Peat.
December 2016
As we close in on the end of another year … another Help Desk and App review for my friends at Australian Teacher Magazine. In Volume 12, Issue 10 you'll find my article "Creation Over Consumption" which focuses on animated video tools. The accompanying video is about my new favourite tool; My Simple Show.
December 2016
In March 2017 I will be off to Sydney to conduct a session on The Maker Movement at a STEM conference. As a preliminary, I provided a short guest blog post for the Criterion Conferences site. Just take the link …
December 2016
With another year "done and dusted" I once again appeared in Australian Teacher Magazine's annual "Report Card" to explain why, for me, 2016 mattered. Only a short piece but it does include one of the few photos of my end of year beard!
February 2017
And now, it's 2017 and the first edition for the year of Australian Teacher Magazine, Volume 13 Issue 1. You'll find me on page 49 discussing Blended Learning under the title "Blend Bricks and Clicks." (Elusive eh!) Alongside there is a short review of the Today's Meet backchannel application.